---
Gardening Team Silver Award

Huge thanks and a massive "Well Done!" to Daniel and all the members of the Gardening Team for their hard work and achieving a SILVER AWARD in the Bishop Auckland and Coundon Best Gardens Competition 2021.

The much-changed garden is appreciated by local people, and they can often be seen enjoying a few minutes sit down, musing over the passing world and chatting to each other and the passing pedestrians.

You can see examples of their hard work on our Church Garden blog and also see the Award attachments on Facebook's "Incredible Edible" page.
---
The Auckland Project has once again come through with fresh and healthy produce for the benefit of all. Our community group can be seen here enjoying each other's company whilst waiting for our dedicated kitchen team to turn that wonderful produce into yet another excellent meal. 
---
Our friends have been busy creating a memorial to commemorate the forthcoming Remembrance Sunday and those with energy to spare are seen here at play with their canine pals.
---
Autumn is slowly arriving and the plants are now bearing fruit for the birds and wildlife. The flora and presence of healthy shades of green continue to remind us that life is bountiful and still in abundance.
---
Once again our Teams put everyday items to novel uses. This pumpkin has been carved to make an excellent table decoration complete with Christian motif and plants to celebrate the bounty of the earth.
---
Our Harvest Service and Lunch went well today. Our dedicated Kitchen Team produced a selection of soups and sandwiches from the donated goods and produce so kindly provided by our Partners, Friends and the Local Community.
Many thanks to you all – the valuable gift of your time, effort and contributions enable us to help so many others – keep up the good work!
---
Our Community Hub is getting busier each Wednesday as more Friends and Volunteers join us. Our Friends at the Auckland Project have once again generously provided us with produces that is so essential in enabling us to feed those who join us each week.
Our Gardening Team continue to till and tend the soil to produce more vegetables on-site and have cleared the cross of wild flowers in readiness for their next plantings and keeping the garden healthy and looking attractive.
More of our Friends and Volunteers can be seen above helping to air and flush the Baptistry as well as assisting in distributing donated goods to our visitors.
This week also saw our new Friends from Job Club pay us a visit with help and advice for all who need it.
If you would like to be part of our growing community please feel to drop in on Wednesday or Sunday mornings from around 10:00am where you can be assured of a warm welcome.
---
As you can see our kitchen helpers now have their counterparts in the garden courtesy of the new "Mud Kitchen" which is being built to encourage children to be more involved with the production of food. Our featured little helper is busy helping to harvest the fresh raspberries – and seems to be enjoying them too!
---
The weather has been kind to the plants and our youngest member of our dedicated gardening team can be seen here helping with the harvest of our crop of runner beans.
---
We thought this week that we would give you a glimpse into the work of our Community Hub that gets done behind the scenes. The image above gives an idea of the size of just one of the deliveries we get on a weekly basis.
All of the donations have to be:
Sorted and graded for different uses.

Separated and allocated for specific tasks.
Prepared, chilled or frozen depending upon the task.
Imagine having to deal with all of the crates above, then having to produce 50 meals and desserts by noon on the same day – that's no mean feat!
Please remember to thank our catering team and volunteers for their tireless hard work and dedication – none of this would be possible without them!
If you would like to volunteer to help then please feel free to drop in on a Wednesday morning to enquire.
---
As you can see the garden is coming on a treat thanks to the help and enthusiasm of our Gardening Group.
Our featured digger not only helped to produced and harvest our first crop of potatoes this week but also had his birthday too (he didn't grow the cake but was instrumental in making it disappear).
The ethos of recycling is once again evident as our creative friends in the garden have come up with yet another novel planter – this time one that used to be a hot water boiler (no teabags were harmed in the making of this planter and drinks are still available).
Long may their energy, enthusiasm and ingenuity continue!
---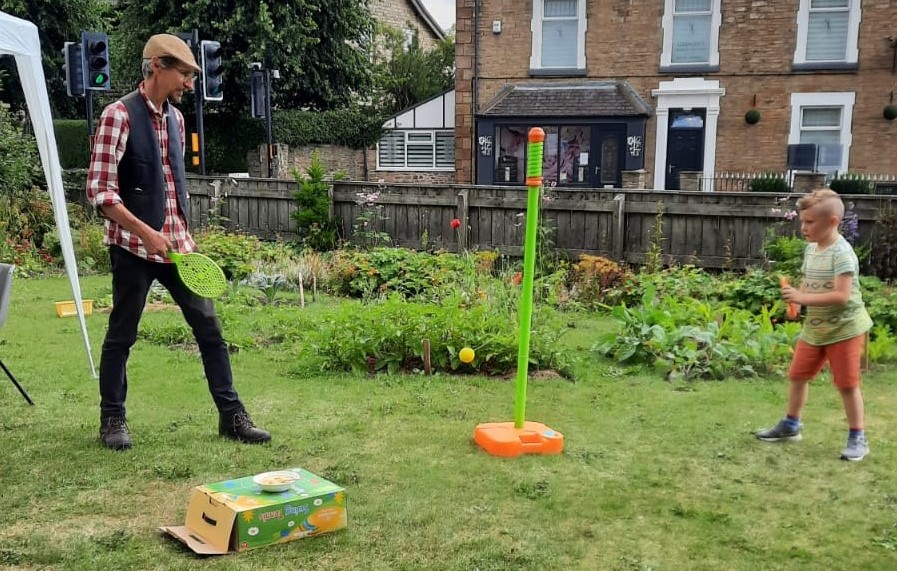 This week saw Morrisons Supermarket donate games to the Church Community Hub for the benefit of all – as you can see from the other pictures they were enjoyed immensely.
The Auckland Project once again provided beautiful fresh food from their gardens for us to create nutritious meals for you to take away or eat in the garden.
The garden now has some new features with the innovative choices of using a suitcase as a planter and a tyre as the basis for a water feature. The garden is proving to be of benefit to all as a place of respite, a focus for gardening and the centre of our Community Hub days each Wednesday.
---
Now that lockdown has eased, we are starting to see an increase in people coming back to the Community Hub and using the garden as a way of meeting up for fun and friendship. Long may the sunshine continue!
---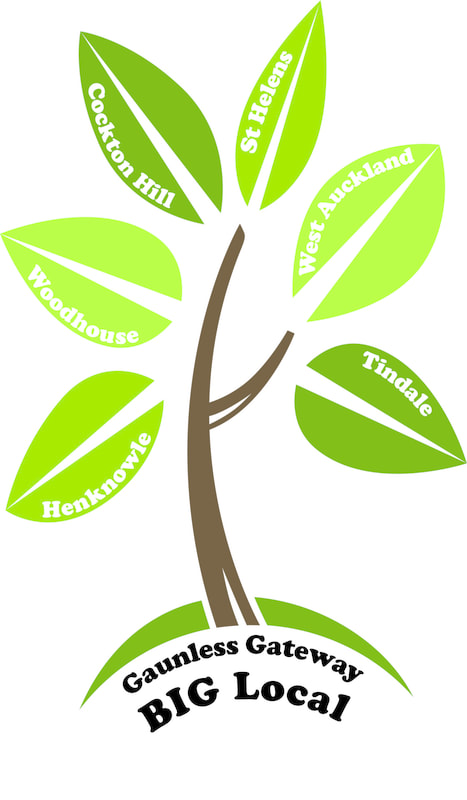 A special thank you to Gaunless Gateway Big Local for their assistance in putting us together with more volunteers to help provide services to the local community.

Volunteers are at the heart of the community and we couldn't do it without you!

A big Thank You to everyone for your hard work and dedication.
---
Thanks to gargantuan efforts by Dan and a dedicated group of stalwart volunteers, our church garden has been reinvented and now receives many well warranted compliments from passers-by because of its masses of flowers – many of which are edible – fruit and veg and raised planting beds and a seating area.
It is a delight to behold and is appreciated by local people and is a favourite meeting place on Wednesdays to have free cups of tea/coffee and also food distribution activities.
The garden is always open at other times too, for anyone to sit in and take a breather, or just a stroll round, as it is never locked.
Last Wednesday (14th July), the garden was visited and assessed by a team of judges from "Bishop Auckland and Coundon in Bloom", who, though they were non-committal, were impressed.
You never know!
---
Well it seems the garden has been bountiful this week with harvests Strawberries. Peas now ready and Lettuce not far behind. The Artichoke is coming on a treat and the flower beds and raised beds are in full bloom – nature's wonders never cease to amaze!
---
The fruits of our Gardening Team's labour are really starting to show this week. A big thanks this week not only to them for their continued hard work and dedication, but also to our skilled friend Christine Percival for our fine pictures this week.
---
Signs of normality are now starting to return with our friends visiting to help in the garden and having a chat and cuppa with us. The produce in the garden has a really good start and will bear results in the coming weeks.
---
The garden continues to make excellent progress and the hard work and dedication of our Garden Team really shows through in the planting. As you can see, the planters are now in bloom and the newly-planted segments at the front of the garden are showing distinct signs of life.
A big thanks to all who are helping in all of the community endeavours each Wednesday, both indoors and outdoors.
---
Our Friends in the Gardening Team have been working hard as they do each week. The combined blessing of the rain, sunshine and their hard work and diligence have yielded great rewards for all to see.
---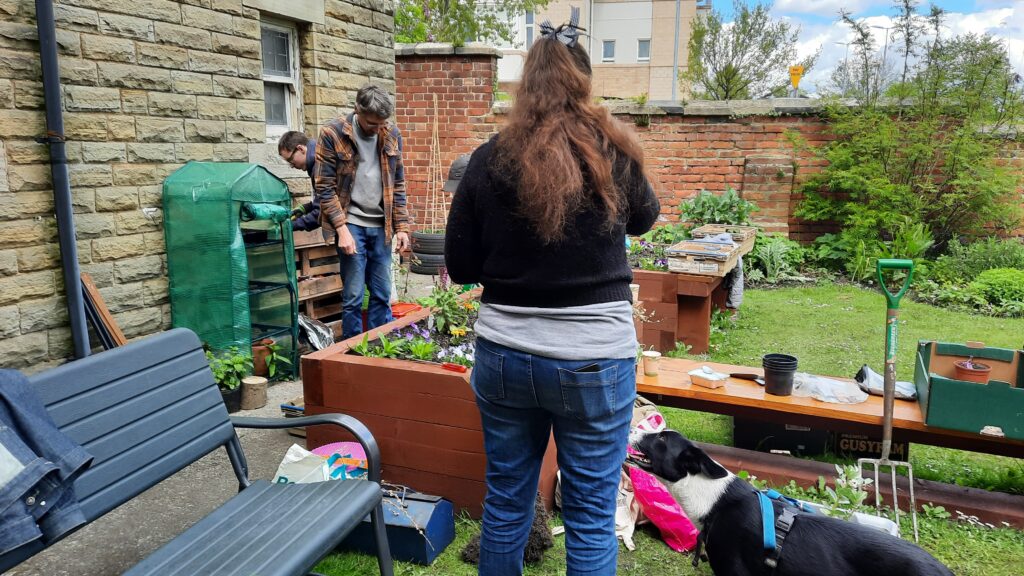 Our Friend in the garden continue their sterling effort to make everything bloom and appear to be having great success at tending their charges. The first outing of the new Litter Picking Team started this week and we trust that they will continue to grow in numbers as their efforts are very much needed in helping to care for the local area.
---
---
As you can the planting out for the garden is coming along a treat. Seedlings have taken hold and shoots have formed, others have produced foliage and are well on the way to becoming strong ahead of flowering.
---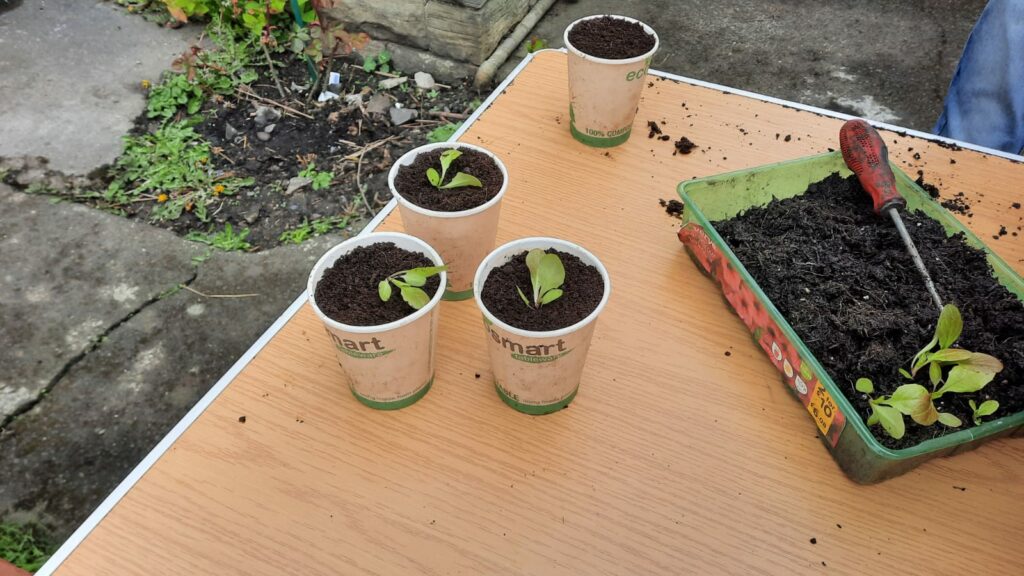 Well Spring is in the air (along with some showers) and our potting and planting out continues. In line with our recycling ethos we are reusing coffee cups to start the seedlings ready for their debut into the garden. We even have our new 4-legged friend to keep us company whilst the work gets done.
---
As you can our Friends have been very busy this week with further planting and cultivating. The first signs of life are starting to show and the seedlings are reaching for the heavens!
---
Our Wednesday REINVENT sessions continue to be popular and the garden and food bank continue to grow to fulfil the needs of all who ask. The featured image show a small selection of the produce and clothing that we have on offer.
---
Work on the vegetable beds continues with the new planting areas cut out and ready to accept planting. We now also have the new portable greenhouse set up with our first batches of seedlings ready for germination.
---
Spring has arrived and with it a blossom of life and activity envelops the garden. Our friends, old & new, young & not so young, are busy helping to cultivate God's wonders for the benefit of all to enjoy. We wish each of them and all of you, a very Happy and Blessed Easter.
---
Our friends are now starting the next phase of developing the garden in readiness for planting out new vegetables. Many hands (and paws) helps make light work.
---
Our new "Bug Hotel" is now in place and ready to welcome its new guests for the spring and summer season. This should provide a great boost to the garden and attract pollinators and a wide variety of useful insect life.
---
A big thank you to Sandra and Veronica at Culture Healing Communities for providing, tools and seeds for the garden (thank you to our able our gardeners for displaying the donations). The tools have already been put to use tending the raised beds and surrounding areas. A new "bug hotel" is currently being installed on the far wall to encourage insects to stay in the garden.
---
Along with the better weather comes new visitors and the simple joy of springtime being enjoyed with all the gusto it deserves!
---
As the snows have passed and the first signs of new life appear in the garden, we can the cross becoming filled with Snowdrops – life truly is a wonder!
---
This week has seen adverse conditions but also an opportunity for fun in the garden. Our helpers have tended, tidied and even created a snowman.
---
The seating has now been fully assembled and the planters are now being filled in readiness to plant our first crops.
---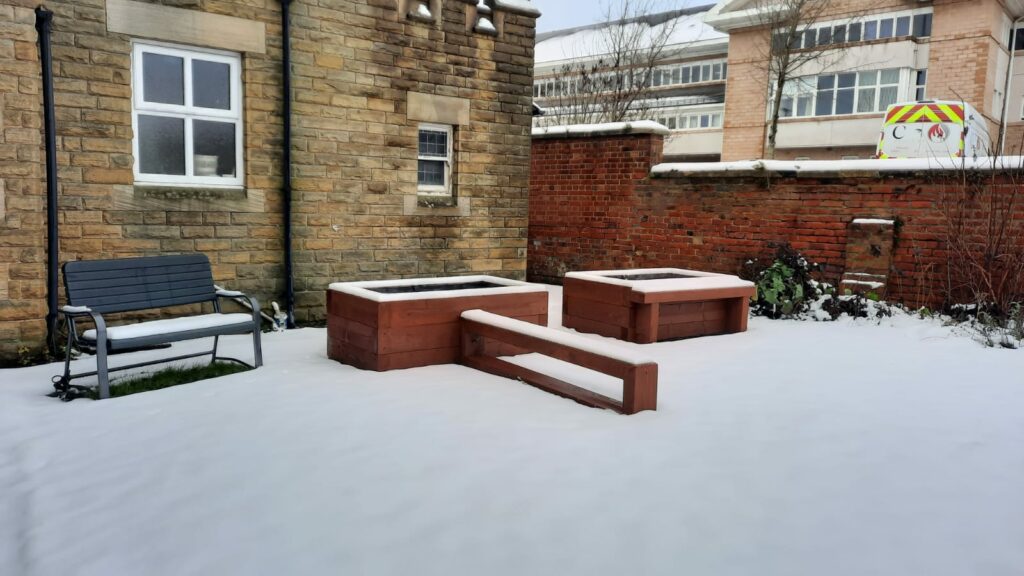 The new seating area has now taken shape with the installation of the second bench.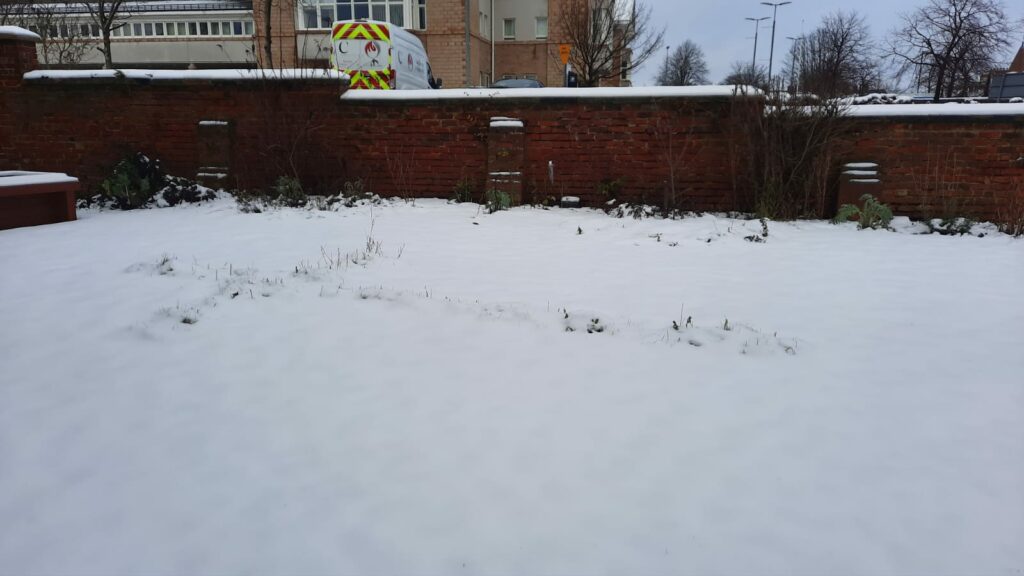 The lawn cross is still peeking upward from beneath the snow and reminds us that God's influence is always there even if we can't always see it clearly.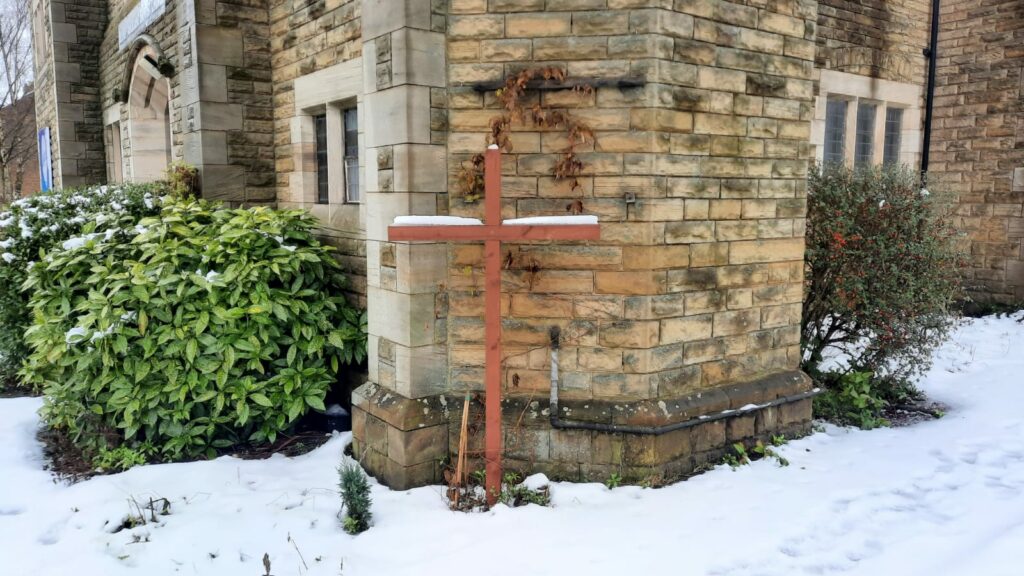 A reminder that even the smallest of things can remain steadfast and upright in the most adverse of conditions.
---
As we approach Christmas we can see our dedicated friends have dressed the notice board and handcrafted our very own large-scale nativity scene for all to enjoy.
Thank you to everyone who has helped and contributed to making the Community Hub a success – your hard work has enabled us to help so many people this year – God Bless You All.
---
Yet another delivery from the generous folk at the The Auckland Project helps us to produce more meals for those in need in the local and wider community of Bishop Auckland.
---
As work continues on readying the gardens for the winter months, we are delighted to welcome friends both old and new as they pop in.
I you would like to take part or just have a chat (respecting safe distancing of course) then feel free to cone along on Wednesday mornings.
---
The next stage of garden development has started with the building of handcrafted seating to match the planters.
The garden continues to thrive with various wildlife visiting and we can see jackdaws using the feeders at the side of the garden.
---
---
A big thank you to our new partner Feeding Families who have donated goods to distribute to those in need of additional help.
---
As you can see our dedicated friends have been busy decorating the newly assembled and installed planters in readiness ahead of the planting season.
---
As we remember those who gave their lives, we see the garden with its breadth of life and give thanks.
---
Our dedicated friends have been busy with tending the garden and distributing any bounties with which we have been blessed.
We continue to feed the local community and will do so throughout the lockdown period that has been announced.
---
As the year moves on and Autumn arrives we have undertaken maintenance to the church too. The new signage at the front and side entrances has been fitted and the new garden door installed.
---
The second raised planter has been completed and the garden is now starting to take the shape required to fulfil its new purpose.
---
As you can see our second raised bed is now well under construction and the garden is starting to show the deeper shades of Autumn.
---
The latest garden photographs taken show the beauty still present even at this time of year.
---
In the sixth of Christine's series of photographs we can appreciate how generous nature has been and the wonders God quietly performs daily.
---
The first of the raised planters is now in place and you can see our friends have done an excellent job of the construction.
---
The work on the raised planter construction by our skilled friends is moving forward with the site located and the bedding point cut in readiness for the installation.
---
As you can see work on the more contemplative parts of our garden project are well underway and the basis of a little oasis of peace is being formed. If you would like to get involved please drop in on Wednesday mornings at 10:00am
---
Work on the disability-friendly raised planters for the sensory garden started this week. Our dedicated friends have been hard at work crafting them all from scratch.
---
The fifth of our photographs shows that even perceived little imperfections are a part of the beauty of God's creations.
---
The fourth in our series of Christine's photographs illustrates that even in beauty we should look a little deeper at what we see.
---
The third in our series of Christine's photographs shows the beauty and resilience of even the most delicate of blooms.
---
The second in our series of Christine's photographs shows the cross in full bloom with wild flowers. Truly a reminder of God's wonder and the hard work of our dedicated Gardeners
---
This week we bring you the first of a set of stunning photographs taken by one of the friends of the church. A big thank you to Christine for donating her considerable skills and time to produce the superb quality images.
---
As the summer rolls on the inevitable rain falls, we can see that the plants have benefitted enormously from nature's gifts. The garden is now in full flourish and even the central cross is now adorned with flowers to please the eye and gladden the heart. God's gifts truly are a wonder.
---
A Father was out walking with his little girl and stopped to chat when they saw us tending the garden and harvesting the first of our produce.

They noted the new bench that we were installing and we told them that it had been generously loaned to us as we start to transform the garden into an oasis of calm to welcome all who wished to use it.

As we related the work we were doing and our involvement in the local community initiatives, the little girl said her mummy was having a baby, so we invited them both in to pick some flowers for her expectant Mother.

Father and Daughter both left with happy smiles and the warmth that comes from a simple kindness.
---
The work on the garden continues apace and the various plants are showing good form. As you can see the regular maintenance has paid off in spades! (well it is a gardening blog and we cultivate smiles too!)
---
I've attached a few pictures of the church garden, particularly for the benefit of those who may not get to see it so often (John and Tony, I guess).
As you can see the white ox-eye daisies and "snow-in summer" are putting on a good show at the moment, are possibly getting a little out of hand – and there's been a lovely red peony in flower!
Everything else is looking fine, despite the lack of rain and David's perfectly-mown lawn provides the finishing touch. The cross in the middle of it is slowly starting to fill out with various wild flowers… and we should even have a strawberry harvest before too long!
---
I hope you're all keeping well in body, mind and spirit. I've been blessed to be able to get out gardening a fair bit, and enjoy popping in at the church from time to time.
The garden there is waking up and looking good; the birds are still emptying the feeders and I've seen plenty of bees and butterflies about already. All our new fruit trees are coming into leaf, and Julie's cherry tree is flowering.
I managed to get the lawnmower working eventually – I think it was the power of prayer! – and hope to keep mowing from time to time.
I took an executive decision and left the little rectangle of grass on the left of the main entrance to grow as a mini meadow for wildlife. I hope that's OK with you all.
It hasn't rained for some time and the water butt is empty, so I'll be watering from the tap for a while, which is presumably helpful in terms of clearing the pipes, too.